Probable Winner of AB InBev and SABMiller Merger Surged 10% Yesterday
<!== INSTRUMENT %% %1440% ==!>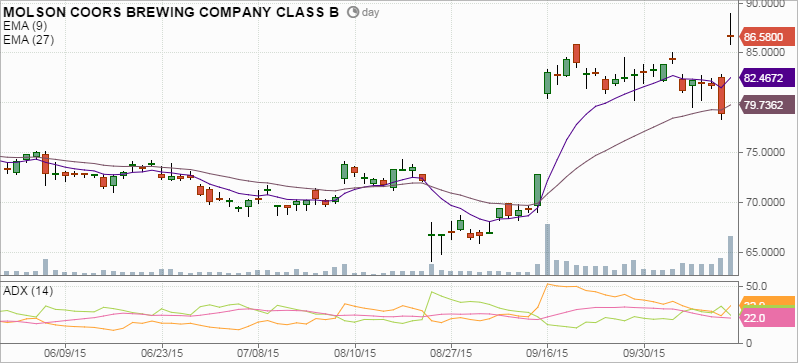 A deal between the world's two biggest brewers gives smaller rival Molson Coors Brewing Co a rare chance to bulk up in the United States, provided it can come up with the cash.
Anheuser-Busch InBev and SABMiller PLC agreed on Tuesday to create a company making almost a third of the world's beer, bringing together such brands as AB InBev's Budweiser and Corona with SABMiller's Peroni and Grolsch.
To win over regulators, the combination would almost certainly have to exit from SABMiller's U.S. business, which it operates through a joint venture with Molson Coors.
Molson Coors is widely expected to make a bid for SABMiller's 58 percent stake in their jointly owned MillerCoors, known for such brands as Coors Light, Miller Lite and Blue Moon. Their venture agreement gives Molson Coors the right to name new management in a the event of a change in control and the right to make the first and last bid for the remaining stake, both of which could deter other potential bidders.
Full ownership of the joint venture would give Molson an opportunity to cut costs by streamlining back office functions such as legal and finance, as well as build scale procurement and supply chain, analysts say.
Taking over SABMiller's stake would give Molson a U.S. market share of close to 28 percent, based on 2014 data from Euromonitor International.
Molson Coors shares rose 10 percent to $86.58 on Tuesday after AB InBev and SABMiller announced their deal, showing that investors are supportive of the company making a bigger bet on MillerCoors.
Story sounds interesting, but I am a little bit afraid of gaps on the daily chart. What do you think about idea to buy TAP today?